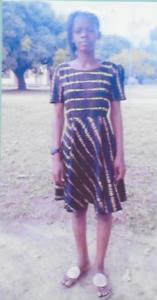 TALATU J.
Gender: Female
Born: November 5, 2003
Location: Wellington
Talatu attends school and is in junior high.  Her father died from injuries he sustained in an airplane crash.  Talatu's mother is alive, but she is mentally disturbed.  Talatu lives with her grandmother, Hawa, an unemployed widower who struggle to provide for her.  Talatu needs sponsorship to help provide for her physical, educational and spiritual needs.